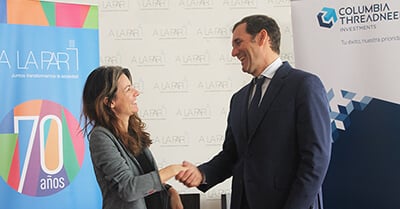 On February 2020, Columbia Threadneedle Foundation and A LA PAR, a Spanish charity that helps people with learning disabilities, signed a collaboration agreement to promote inclusive sport through the newly created first inclusive Mountain Bike school in Spain.
Columbia Threadneedle Foundation supported A LA PAR athletes in June last year, on their TranspyrC2C challenge. Our support of the inclusive Mountain Bike school establishes a further commitment of the Foundation in Spain, with the full support of the Columbia Threadneedle Investments team in Madrid.
The inclusive Mountain Bike school was created after the merger of entrenamientodeciclismo.com and the team of cyclist at the A LA PAR's Sport Club that seeks to bring mountain biking to people with learning disabilities.
"There are not many sport disciplines that symbolize so well the courage and the desire to move forward despite obstacles and difficulties such as this one" said Marcos Herrero, Director of Sports Club at A LA PAR.
Rubén García Páez County Head of Iberia and Latam said: We are delighted to be part of this project, we firmly believe in the power of sport to create a fairer and more diverse society.