Following the recent challenging period we felt it prudent to communicate our views. Since the end of Q321 our Emerging Markets Opportunity strategy has experienced volatile performance, coinciding with considerable market volatility. We have made mistakes and we feel the market is making mistakes too. Recently we have witnessed a significant style rotation away from growth to value (Figure 1)
Figure 1: MSCI Emerging Markets growth-to-value relative total return index (US$)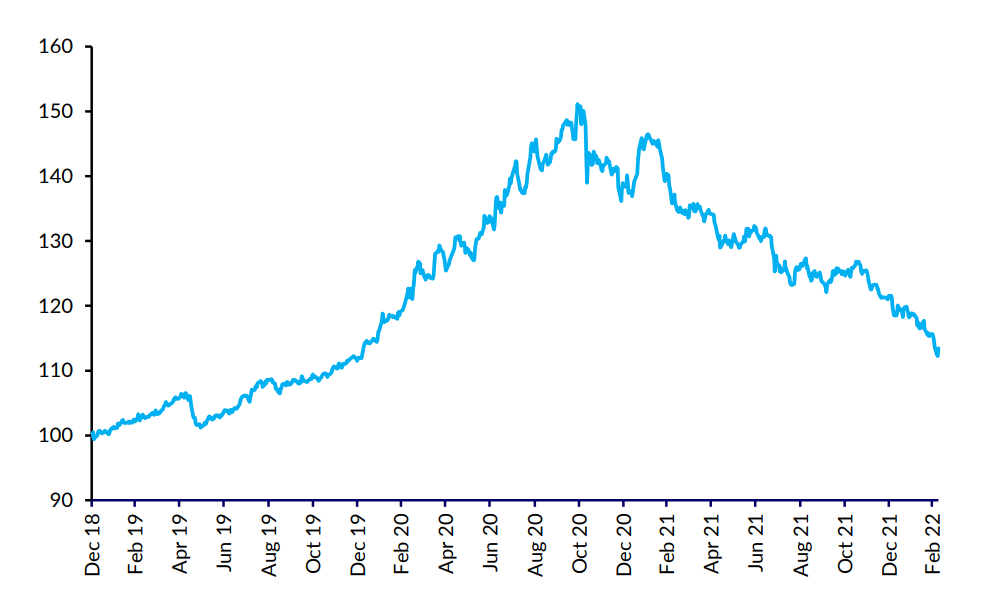 Source: MSCI, as at February 2022
Given our focus on quality growth, this extreme value rotation has been a headwind. Reassuringly, we have experienced similar situations in the past and focusing on our investment process has been key to our long-term success: in late 2016, following the election of Donald Trump, and in the second half of 2018 following increased rhetoric around US-China trade relations, macro concerns overshadowed the compelling fundamentals of solid businesses, and the broader emerging market equity asset class witnessed a similar growthto-value rotation. These were the only periods in the history of the strategy when mitigating downside risk was not strong. But through focusing on quality and valuations through these periods, we were ideally positioned for the market recovery and the subsequent periods of outperformance in 2017 and 2019 – a testament to our approach. It is also important to note that when value rotations are not extreme the strategy has maintained outperformance of the market.
In this current period, macro volatility has been dominating emerging markets and overshadowing fundamentals. More specifically, the volatility has been the result of a wideranging group of events and issues including the regulatory reset in China, the impacts of Covid-19 policy, Brazilian macro, inflation concerns, monetary tightening and, most recently, the Russian invasion of Ukraine. Since we are bottom-up, fundamental investors this has been challenging, but we remain firm in our view that over the long term earnings drive stock markets, and while macro volatility may persist in the short term, focusing on fundamentals will ultimately bear fruit.
In China we felt the market was overreacting to the regulatory reset, and in fact many announcements read like the wish lists of developed market governments, such as antitrust rules or curbing monopolistic behaviour and the use of consumer data by big tech. We believe we are out of the first phase of regulation in which the equity risk premium from domestic regulation feels priced in, and are moving to the next phase in which regulatory rules are applied. This is likely to be less volatile. Policy measures in the property sector are showing signs of easing, such as the relaxing of mortgage availability, which is also incrementally positive. Furthermore, given that 2022 is an election year in China we expect moderate monetary and fiscal easing as opposed to large stimulus – and this is what we have seen so far. In our opinion, China's zero-Covid policy has been a constraint on the economy and we are monitoring progress in this area.
The macro environment in Brazil was challenging in 2021, with fiscal worries from pandemic spending, inflation and interest rate concerns, and election uncertainty all weighing on sentiment. While we remain tentative given the macro dislocations created at stock level, we remain constructive on Brazil over the long term due to the change in entrepreneurship as well as the types of companies and business models coming to market. Current valuations reflect elevated macro risk, which in our view is close to peaking. We felt the central bank did the right thing in the face of rising inflation. You only need to look to Turkey for the opposite playbook, but this action did restrain the equity market. Signs that the interest rate hiking cycle is coming to an end, as well as collaborative comments from both parties, have eased election concerns. With hindsight we could have reduced our Brazilian overweight sooner last year, but interestingly it has been one of the stronger markets so far this year.
Russia has certainly been a black swan event. As we entered 2022 our base case was a likely annexation of eastern Ukraine and possible sanctions. As such, in January we exited our position in Sberbank. While the Russian invasion was an identified tail risk, we didn't expect it to materialise. Following the invasion we began the process of exiting all exposure as best we could in the face of liquidity constrains and market restrictions. Thankfully, our remaining exposure was small and has subsequently been written down – less than 40bps. As anticipated, this week Russia was removed from the EM universe.
It is clear that macro variables have weighed on the market over the short term, causing a derisking of the universe with the resultant selling creating massive dislocations at the individual stock level. This in turn has led to poor stock performance on a short-term basis. We remain focused on our fundamental and valuation work. The post-war environment will have an impact on inflation, pushing food and fuel prices higher, which will put pressure on the consumer both in emerging markets and globally. In this environment, we are increasing our exposure to inflation beneficiaries such as financials and commodity producers, while still focusing on structural growth opportunities, emphasising a "barbell" portfolio to benefit in the current environment. We have been in this situation before and, while it may be challenging in the eye of the storm, our philosophy and process have guided us and ultimately prevailed in similarly volatile times.