Columbia Threadneedle Foundation works with inspiring charity partners to improve lives and drive long-term social change.
With our support, our charity partners continued to deliver their vital work to transform lives for the better.
Art as therapy with AT The Bus
AT The Bus provides school-based programmes of art as therapy to help improve the mental wellbeing of children and young people aged 5–18 in Oxfordshire and London.
In a beautifully painted double-decker bus fully converted to accommodate an art studio space containing story books, art supplies and other resources, group sessions take place during the school day.
Students work in small groups led by experienced facilitators trained in the Beattie Methodology, a creative therapeutic intervention that supports mental wellbeing, alleviates anxiety, develops resilience, and helps young people build their self-esteem, self-confidence and independence.
With the demand for intervention increasing resulting in more schools requesting art as therapy, Columbia Threadneedle Foundation continues to support AT The Bus with funding to employ and train facilitators to run additional workshops for children and young people.
Take One Picture at The National Gallery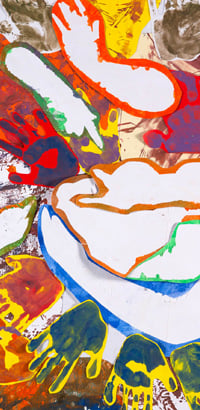 Columbia Threadneedle Investments has sponsored the 'Take One Picture' programme and exhibition at the National Gallery in London since 2018, which is also supported by Columbia Threadneedle Foundation.
Take One Picture is the National Gallery's countrywide scheme for primary schools which uses one painting from the Gallery's collection to inspire cross-curricular work in primary classrooms. The programme aims to put art at the centre of children's learning, inspiring a lifelong connection with artists' work, museums and galleries.
'Finding of Moses' by Orazio Gentileschi was the source of inspiration for 2022's 'Take One Picture' programme. Gentileschi's painting depicts a scene from the Old Testament, where Pharaoh's daughter discovers baby Moses hidden in a basket amongst bulrushes on the River Nile.
SEO Advance class of 2022 helps to improve social mobility
Sponsors for Educational Opportunity (SEO) London deliver superior educational, training, and mentoring support to young people from underrepresented and underserved backgrounds.
SEO London programmes cover the entire cycle of professional development, from pre-professional development to career access leading to long-term success. Numerous SEO London alumni hold senior leadership roles in UK and international corporate firms. They also serve as mentors and trainers for the next generation of students, sharing their industry knowledge.
Our grant supports 'SEO Advance', SEO London's secondary school programme, which enables 50 students to participate in virtual insight sessions, training/personal development opportunities, work experience and mentorship.  
In February 2022, Columbia Threadneedle hosted 39 students from year 12 and 13 to learn about our industry and the opportunities for a career in asset management. The students participated in a CV workshop, and heard from leaders, investment managers, operations and distribution employees throughout the course of the day.
Access Sport on a BMX track
A thriving community cycling club was set up in Bexleyheath thanks to the Foundation's support. The Making Trax school outreach programme was established with the goal of helping schoolchildren in south London to learn to cycle safely on a BMX track under the tutelage of expert 'social impact coaches'.
Access Sport, a charity that places inclusion at the centre of community sport across the UK, is the organisation behind this initiative. Their goal is to enable everyone, regardless of background or ability, to take part in sport and physical activity.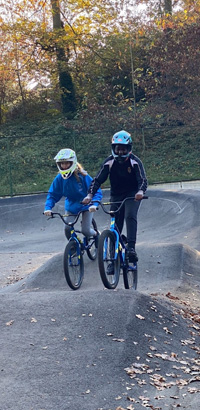 Participants of the Making Trax school outreach programme were able to become more physically active and healthy. There was an opportunity to develop emotional resilience and wellbeing, learn new skills such as bike mechanics while helping to improve their confidence about returning to school – and most importantly, the young people were able to have fun!


As part of charity's growth plans, our Foundation has been supporting Changing Sports and Changing Places projects in the last two years. With the roll-out of tennis, touch rugby, Hoopz basketball, and more recently plans for Flyers hockey and Wingz, Changing Sports seeks to embed disability inclusion into local communities. The Changing Places projects will deliver impactful, inclusive activities in six key cities across a variety of sports.
Our grant is also assisting Access Sport to deliver a brand refresh started last year. This will help them better articulate their mission and vision more clearly.
Building employability skills with Bounce Back
Bounce Back drives social mobility with the firm belief that turning lives around and reducing re-offending can be accomplished by equipping individuals who are in prison, leaving prison or at risk of offending with the skills and assurance to be 'work-ready'. 
With the help of a grant from our Foundation in 2022, Bounce Back was able to expand their reach by hiring a community trainer for their training centre and hub. The community trainer delivered courses in painting and decorating, dry lining, and construction, as well as helping to develop soft skills in employability, financial security and mental health & wellbeing.
The effects of Covid have significantly impacted individuals' employability and mental health. In response, Bounce Back developed a pre-employability course called Kangaroo with the aid of our grant. Delivered in prisons and at the community training centre, Kangaroo offers bespoke modules that enable the charity to better assess individuals and decide on their next stage of progression.
The Foundation's partnership with Bounce Back was shortlisted in the category 'Charity partnership – banks & financial services' at the Business Charity Awards 2022.
Creativity with Clean Break
Clean Break delivers high quality theatre programmes in prisons across the UK. The Foundation's grant supports Clean Break's Member Programme where women can enhance their wellbeing, develop new skills, look for opportunities to find their voices, and play a more integrated role in society. Clean Break has an excellent track record of working individually with women to address the long-term issues affecting those involved in the criminal justice system through theatre-based activities and holistic support.
In April 2022 our donation helped Clean Break's members return to their building in Kentish Town. Given how crucial it is for Clean Break's members to have a safe, women-only, trauma informed community space, this was an extremely big milestone. Their holistic approach continues to help provide long-term change for members, including increased support with 1-2-1 calls, care packages, emergency funds and digital resources. Nineteen members are now receiving professional pro-bono treatment thanks to Clean Break expanding their therapy partnerships.
Other grants are allowing Clean Break to develop their digital infrastructure through a new 'Knowledge Hub' on their website, a coherent curated space addressing multiple audiences.  
After two years of planning, Clean Break hosted their inaugural festival for its members, 'Limitless' based around the themes: 'Empowerment, Freedom, Kindness'. Members contributed to the co-production of the three-day festival which included plays, panel discussions and well-being sessions.
Outdoor adventures help transform young lives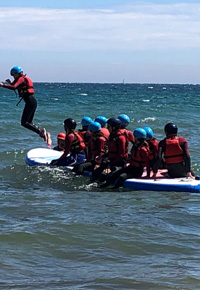 The Youth Adventure Trust works with vulnerable young people from Wiltshire and Swindon who are experiencing social and economic disadvantage and are between the ages of 11 and 16. The Youth Adventure Programme, a three-year early intervention programme, helps transform lives by providing young people with access to opportunities for personal development and learning in an outdoor environment.
With the Foundation's support, young people in Swindon were able to progress to the second year of the Youth Adventure Programme after the restrictions imposed during the pandemic were lifted, and activity days in February and April, and Coastal Camp, a pivotal part of the programme, resumed.  
Coastal Camp took place during the May and June half-term holidays. Young people participated in games, a night trek, a ridge walk, kayaking, canoeing, coasteering, raft building, stand-up paddleboarding, and jumbo stand-up paddleboarding.

The Youth Adventure Programme helped young people gain more self-assurance, a more positive outlook on life, and better resilience through commitment and self-control, enabling them to apply what they learned to their schoolwork and employment journey. 
The Centre for Financial Capability (TCFC)
The Centre's mission is to give every UK primary school child high-quality and effective financial education. Currently, the primary curriculum has zero hours taught for financial literacy whilst studies show that habits and attitudes towards money are formed as early as age seven.
Through innovative teaching programmes, the Centre has supported financial education to more than 25000 children across +100 schools. Its programmes have addressed concepts to support key financial decisions later in life, including financial goal setting, the value of consistent savings and budgeting behaviour and the concept of delayed gratification. 
In 2022, the Centre supported education to over 3500 children through innovative financial literacy programmes, and targeted deprived areas and those with high proportion of free school meals. The Centre also facilitated a high number of parliamentarian engagements, including MP visits to schools. 
A LA Par inclusive sports
The Foundation has supported the A LA Par mountain bike school for children with learning disabilities since 2020. The A LA PAR Foundation, based in Madrid, was established in 1948 to provide educational support to children of parents with leprosy, since then it expanded to support children and adults with learning difficulties. A LA PAR and their sports club help integration through sports training for athletes with learning difficulties and facilitates their participation in competitions at all levels, from amateur to professionals.