Columbia Threadneedle Foundation is pleased to support MASKED, a limited-edition portrait series shot to raise funds for UK children's charity AT The Bus, which delivers a school-based programme of art as therapy to young people.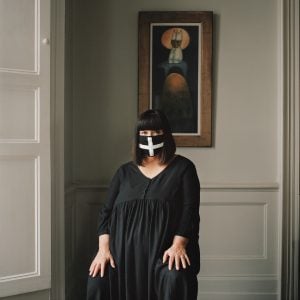 MASKED features 24 leading figures in the arts, education, communications and law including Dawn French (above), Andrew Scott, Jenny Saville RA, Grayson Perry CBE RA, Joy Labinjo, Dame Zandra Rhodes, Sir Philip Pullman, Krishnan Guru-Murthy and Baroness Amos, all photographed wearing masks.
The series by award-winning photographer Joanna Vestey explored the theme of communication, and each sitter was shown in their own space. "Children and young people need support for their well-being, mental health and education, particularly during times of uncertainty and stress. It is a vital time for AT The Bus to support young people," said Dr Juli Beattie OBE, Director Founder of AT The Bus.
Columbia Threadneedle worked with media partners Fundamental Media, Ocean Outdoor, London Lites and Open Outdoor to feature MASKED on billboards around London.